| Item ID | Starting Bid | Bids | Current Bid |
| --- | --- | --- | --- |
| 103585 | $7.50 | 8 | $25.00 |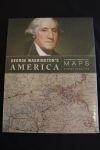 As a surveyor and planter, and later as the Commander of the Army during the American Revolution, Washington relied on maps. Maps enabled him to survey lands, establish boundaries, and lead an Army.
In GEORGE WASHINGTON'S AMERICA: A Biography Through His Maps, Barnet Schecter provides reproduction of 43 maps that depict eastern North America from Canada to the Gulf Coast, along with other maps from the Mount Vernon library. These maps provide an intricate and detailed picture of our country through Washington's eyes. The maps reflect where specific events occurred, and how geography shaped the course of many of those events. In addition to mapping Washington's military career, the maps trace the routes of his various expeditions or campaigns.
Washington's understanding of the country's landscape, and his clear understanding of how much he did not know about the terrain, sometimes put him in the position of having to give broad leeway to subordinate commanders who had more accurate knowledge of the ground, particularly with respect to distant campaigns. But that his maps shaped his decisions cannot be doubted.
Beautifully illustrated and bound, GEORGE WASHINGTON'S AMERICA provides a treasure trove of historical information, including some reproductions of maps drawn by Washington himself.
A must for any true historian's library.
Donated By: W. Daniel Heidt.