| Item ID | Starting Bid | Bids | Current Bid |
| --- | --- | --- | --- |
| 103636 | $10.00 | 6 | $25.00 |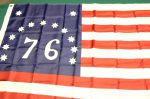 Legend has it that the Bennington Flag was carried from the field following the Battle of Bennington during the American Revolution by Nathaniel Fillmore. Passed down through the Fillmore family, it came into the possession of Nathaniel's grandson, Millard Fillmore, who upon the death of Zachary Taylor would become the 13th President of the United States. In later years, it was flown by Philetus P. Fillmore to honor the Battle of Bennington, before being donated to the Bennington Museum.
Typical of Revolutionary War era flags, the Bennington Flag has 13 stars and 13 stripes to symbolize the 13 original American colonies.
But unlike most Revolutionary War era flags, the sequence of stripes was reversed, such that white stripes are outermost, alternating with red stripes.
The blue canton features a bold "76" in large white numbers, honoring the year the Declaration of Independence was signed.
The stars on the Bennington Flag have seven points each, a unique feature from other flags of the era.
While the history of the Bennington Flag as a Revolutionary War era flag is debated, it is known to have appeared early in the nineteenth century, perhaps during the War of 1812.
This flag is 3' x 5', printed on super polyester, with a canvas header, brass grommets, and four rows of sewing on the "fly side".
Donated by: Lucas & Lucas, P.S., Attorneys at Law.