| Item ID | Starting Bid | Bids | Current Bid |
| --- | --- | --- | --- |
| 103639 | $10.00 | 3 | $15.00 |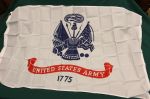 Although the U.S. Army had been in existence since 1775, a flag was not designed and created to represent it until 1956. Created to fulfill a ceremonial need, the U.S. Army Flag was officially unfurled and presented in August of 1956 at Independence Hall, the day marked the 181st anniversary of the founding of the United States Army.
The Flag is deeply rooted in American history. The white flag bears the official seal of the War Office, a red scroll containing the words "United States Army" and the date 1775, representing the year the Army was formed.
Containing the same red, white and blue colors of the United States flag, the U.S. Army Flag is rich with symbolism. The War Office seal contained a crossed sword and musket, with the barrel of a cannon and cannonballs pictured, in addition to a flagstaff and spearhead. Its central feature is the Roman cuirass, or breastplate along with backplate clasped together into a whole. Above the armor and military tools the words "This We'll Defend" are featured, surrounded by a rattlesnake, reminiscent of early colonial flags.
The colors represent American virtues, such as bravery, honor, loyalty, and remembrance.
This 3' x 5' version is printed on super-polyester, bound with canvas header and brass grommets, and four rows of stitching on the "fly side".
Donated by: Lucas & Lucas, P.S., Attorneys at Law.