| Item ID | Starting Bid | Bids | Current Bid |
| --- | --- | --- | --- |
| 103658 | $100.00 | 0 | $0.00 |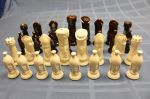 The fable is whispered in dark shadows of an ancient Eastern King who owned a magic fine porcelain chess set. Made of the very finest brown and white porcelain, the set's beauty was without equal. The King's wizard prophesied that the King would live and reign until the first time he lost at chess. And as long as he played on the magic set, he would never lose.
Day by day, the King's fingers became one with the brown and white fine porcelain figures, as he perfected his skills. And so the King became very old, and very accomplished. And he never lost.
One day, the King surprised a young courtier who envied the stunning chess pieces. Startled, he whipped around, overturning the table on which the magic set was placed. Crashing to the floor, the chess board was smashed, and with it, the set's magic power.
Finding another board, the King called his most skilled opponent to insure that the chess set's power was still intact. The opponent won in 7 moves. As prophesied, the King fell dead, and his Kingdom was lost.
Offered here are chess pieces made of the finest white and brown porcelain. There is no board to accompany them.
Of course, the above fable must be nothing but a myth. It could not possibly be true.
Chess pieces without a board, made of the very finest brown and white porcelain, having beauty without equal ….
Donated by: W. Daniel Heidt.