| Item ID | Starting Bid | Bids | Current Bid |
| --- | --- | --- | --- |
| 103670 | $10.00 | 2 | $15.00 |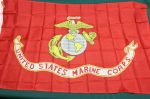 While little is known regarding flags carried by early American Marines, it is likely that American Marine flags date back to the Grand Union Flag carried by Captain Samuel Nicholas' battalion on March 3, 1776.
Marine Corps Order No. 4, on April 18, 1925 designated gold and scarlet as the official colors of the U.S. Marine Corps. These colors were first reflected in the official Marine Corps standard on January 18, 1939, an early version of today's Marine Corps standard.
By Marine Corps Order No. 157, dated November 3, 1939, streamers were attached to the staff reflecting the Corps' battle honors, with devices embroidered onto the streamer denoting special recognition or repeat awards.
This offer is for a 3' x 5' United States Marine Corps flag, on super-polyester, with a canvas header and brass grommets, and four rows of sewing on the "fly" side.
Donated by: Lucas & Lucas, P.S., Attorneys at Law.