| Item ID | Starting Bid | Bids | Current Bid |
| --- | --- | --- | --- |
| 103671 | $10.00 | 1 | $10.00 |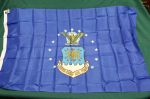 The flag of the United States Air Force consists of the coat-of-arms, 13 white stars and the Air Force Seal, on a blue background. The 13 stars represent the 13 original colonies, the three star grouping at the top portrays the Departments of the Army, Navy, and Air Force. An American bald eagle with wings extended stands above the crest. The cloud formation depicts the creation of a new firmament, and the wreath, composed of six alternate folds of silver and blue, incorporates the colors of the shield design.
This offer is for a 3' x 5' United States Air Force flag, on super-polyester, with a canvas header and brass grommets, and four rows of sewing on the "fly" side.
Donated by: Lucas & Lucas, P.S., Attorneys at Law.