| Item ID | Starting Bid | Bids | Current Bid |
| --- | --- | --- | --- |
| 103672 | $10.00 | 2 | $12.00 |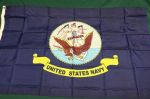 Ships of the earliest period in our Nation's naval history wore a variety of flags contributing to the genesis of our national colors. None of them, however, could be considered forbears of the United States Navy flag. For more than sixty years, the Infantry Battalion flag served as the unofficial Navy flag. The official flag was introduced by President Dwight David Eisenhower on April 24, 1959.
The flag consists of the seal of the Department of the Navy within a circular yellow rope, above a yellow scroll inscribed "United States Navy" in dark blue letters against a dark blue background.
Unlike the flags of other branches of service, the flag of the United States Navy is reserved exclusively for display purposes and is carried by an honor guard on ceremonial occasions.
This offer is for a 3' x 5' United States Navy flag, of printed polyester, with a strong woven header, rust-proof grommets, and double-stitched "fly" end.
Donated by: Lucas & Lucas, P.S., Attorneys at Law.