| Item ID | Starting Bid | Bids | Current Bid |
| --- | --- | --- | --- |
| 105461 | $10.00 | 5 | $17.50 |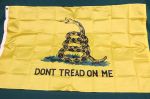 Considered one of the first flags of the United States, the Gadsden Flag was flown by Commodore Esek Hopkins, the country's first Commander-in-Chief of the Navy, to serve as the standard of his flagship in December, 1775. The first Marines enlisted in the city of Philadelphia carried drums painted in the yellow motif, depicting a coiled rattlesnake with thirteen rattles, and the motto "Don't Tread on Me."
Since the Revolution, the flag has seen resurgences as a symbol of American patriotism, and support for the United States Constitution.
It may be flown with pride, given its place of honor in American history.
Donated by: Lucas & Lucas, P.S., Attorneys at Law.