| Item ID | Starting Bid | Bids | Current Bid |
| --- | --- | --- | --- |
| 105466 | $15.00 | 0 | $0.00 |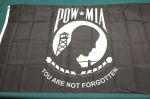 The POW/MIA flag was created for the National League of Families of American Prioners and Missing in Southeast Asia and officially recognized by the United States Congress in conjunction with the Vietnam War POW/MIA issue "as the symbol of our Nation's concern and commitment to resolving as fully as possible the fates of Americans still prisoner, missing and unaccounted for in Southeast Asia, thus ending the uncertainty for their families and the Nation."
The numbers of POWs and MIAs from American wars is staggering: 1,606 remain missing from the war in Southeast Asia, 78,000 from WWII, and more than 8,000 from the Korean War. Some are buried in battlefield gravesites. Many were lost at sea. Others have simply never been accounted for.
Our servicemen and servicewomen have paid heavily for our freedom. Fly the POW/MIA flag in their memory, and to remind the world that they are not forgotten.
Donated by: Lucas & Lucas, P.S., Attorneys at Law.