| Item ID | Starting Bid | Bids | Current Bid |
| --- | --- | --- | --- |
| 105511 | $900.00 | 0 | $0.00 |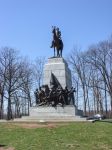 History Comes Alive in the Gettysburg National Military Park in Gettysburg, Pennsylvania for Three Days & Two Nights at the Battlefield Bed & Breakfast for Two, Including a Premier Battlefield Bus Tour and an Evening Bus Tour of Old Town Gettysburg (Land Only).
ESTIMATED VALUE: $1,200.00.
Romantics, history travelers, and travelers with dogs...if you've ever imagined America and the Civil War in the 1800s, you'll love this opportunity to stay in a Civil War farmhouse on the Gettysburg Battlefield!
Get ready for a unique historical adventure that includes great food, comfortable accommodations, and daily history presentations.
You'll also enjoy a Battlefield bus tour and a bus tour of Old Town Gettysburg!
Imagine staying in a real 1809 Civil War farmhouse on a beautiful 30-acre nature preserve on the Gettysburg Battlefield behind Big Round Top.
Set in the Gettysburg National Military Park, you will be just five minutes from the restaurant and tourist district, and you'll have access to all of the museums inside the park!
Make the most of your travels through time by visiting the park's museum, the Eisenhower Historic Site, the Shriver House Museum, the American Civil War Museum, and General Lee's Headquarters Museum (just to name a few!)
After you have had your fill of the tourist hustle and bustle, retreat to a beautiful country setting where you can relax and refresh yourself.
The excellent historical presentations every morning before breakfast have become a signature element of the Battlefield Bed and Breakfast experience for nearly 20 years.
There are also fun activities planned throughout the year, and some of the guest favorites include the January Civil War Ball and February Dinner with Lincoln.
More than 40 miles of battlefield avenues criss-cross across the 10,000 acre Gettysburg Battlefield, and you'll find more than 1,450 monuments, markers and plaques dotting the field.
Your Premier Battlefield tour will highlight the events that occurred on the Gettysburg Battlefield, as well as why Gettysburg plays such a significant part in American history. And your tour of Old Town Gettysburg showcases some of the most amazing stories in history, narrated by locals!
From the sisters who witnessed a meeting of Confederate and Yankee soldiers in front of their house, to the woman who was almost sold into slavery, these stories are spellbinding!
You'll see buildings struck by artillery shells, and the locals even have a story about Gettysburg's connection to Al Capone!
Your getaway for two includes:
• 3 days/2 nights accommodations at the Battlefield Bed & Breakfast
• Breakfast daily
• All room related taxes
• 2 1/2 hour historic bus tour of Gettysburg Battlefield
• 1-hour evening tour of Old Gettysburg
• Free concierge reservation service
TERMS AND CONDITIONS: Travel package is non-refundable and subject to availability. Certificates/gift cards cannot be replaced. Hotel may be substituted with equal or similar accommodations. Tours run on specific days of the week and at specific times. A 30 day advance reservation is required. Travel is valid for 12 months from date of issue.