| Item ID | Starting Bid | Bids | Current Bid |
| --- | --- | --- | --- |
| 107720 | $150.00 | 0 | $0.00 |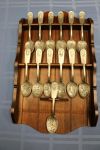 Thirteen (13) unique heavy metal spoons honor the patriots of the American Revolution. Each spoon is approximately 6 1/2" in length. The handles each bear the image of a distinctive patriot, and the "bowl" of each spoon shows an incredibly detailed depiction of that patriot in action.
The spoons honor, respectively, John Paul Jones (fighting aboard his vessel), Patrick Henry (delivering a fiery oration), Thomas Jefferson (laboring over his desk as he drafts the Declaration of Independence), Samuel Adams (disposing of English tea with the "Boston Tea Party"), Ethan Allen (rallying the Green Mountain Boys), Caesar Rodney (preparing for his historic ride on the night of July 1, 1776), Molly Pitcher (taking her fallen husband's place at the Battle of Monmouth), Nathanael Greene (scouting enemy forces in the distance), Israel Putnam (fighting the British at the Battle of Bunker Hill), Francis Marion (ambushing the British in the swamps of South Carolina), Nathan Hale (facing his executioners), George Washington (inspecting the troops), and Benjamin Franklin (preparing to sign the Declaration of Independence).
This is a truly unique and memorable heirloom to be enjoyed for many years to come. Complete with handmade wooden hanging spoon rack.
Donated by: Marion ("Mick") Hersey.