| Item ID | Starting Bid | Bids | Current Bid |
| --- | --- | --- | --- |
| 107725 | $120.00 | 0 | $0.00 |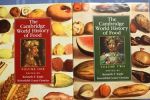 A 2 volume boxed set of The Cambridge World History of Food.
Edited by Kenneth F. Kiple and Kriemhild Conee Ornelas, this monumental set of books published by Cambridge University Press encapsulates the history of food and nutrition through the span of human life on earth. Ranging from the eating habits of our prehistoric ancestors to food-related issues of today, The Cambridge World History of Food covers the full spectrum of foods that have been hunted, gathered, cultivated, and domesticated. Every chapter is accompanied by bibliographical references.
Truly interdisciplinary and international in scope, these volumes are the works of 224 experts from 15 countries in fields from agronomy to zoology.
The work culminates in a dictionary of more than 1,000 plant foods.
Each volume measures approximately 10 3/8" x 8 1/2".
2,153 pages (combined).
An incredible value for the lucky winner!
Donated by: Allen Gray.